Covid-19 Response
The Elders and Executive Boards have made the decision to discontinue in person Worship Services until we are no longer in Tier 3 Restrictions. Our Worship Services will continue to be live-streamed on Sundays at 9:00 am through the Online Service link, or you can find them on Prince of Peace's Facebook page.
Welcome to Our Church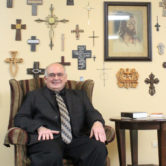 As members of the Lutheran Church – Missouri Synod we are called to be brothers and sisters in Christ. If you are interested at meeting our Church Family, we encourage you to join us at any one of our worship services or contact us through email or phone. We look forward to meeting you.
9:00am – 10:00am
Last Sunday of Church Year
9:00am – 10:00am
First Sunday of Advent
Cancelled
9:00am – 10:00am
Second Sunday of Advent
Coming Soon
9:00am – 10:00am
Third Sunday of Advent
Coming Soon
Donate
For donations to Prince of Peace please click the button below to take you to a secure server. Please be sure to add what your payment or donation is for in the memo line. To help offset charges, please add 1% to your total before Vanco asks for the offset as they add another transaction charge.
Thank you to all for your continued support to Prince of Peace.
Sunday
Services
Traditional Worship: 8:30AM
Contemporary Worship: 10:30AM
Childcare available during 10:30 Service

Sunday Education
Adult Education:
9:40 AM
Jr./Sr. High Study: 9:40 AM
Sunday School (Preschool – 5th): 10:30 AM
Sunday school children start in Worship and are dismissed after the Children's Message
Location
Prince Of Peace
932 S. McHenry Avenue
Crystal Lake, IL 60014
Contact
Need additional assistance? Please contact us:
815-455-3200
Office Hours
Open Monday to Friday, from 8:00 am to 12:00pm
Sunday Services: 8:30 am & 10:30 am